Surrealist videos and visionary environments are routine for 3D Artist Rocco Manta. Rocco is a noteworthy creative, due to his eye-catching, one-of-a-kind images and distinctive perspective. His work slightly resembles the aesthetics of classic video games and retro computer graphics, which creates a nostalgic mood while also transporting us to his psychedelic and surrealist universe. As a skilful music producer, Rocco expertly juggles both his passions of 3D design and music. His distorted vision and exquisite musical ear distinguish him as a one-of-a-kind inspirational artist.
His passion for 3D art started quite randomly at the age of fifteen. Guided by pure interest and curiosity, Rocco started buying and renting DVDs that offered tutorials to the main 3D softwares, such as Blender. Eventually, his enthusiasm and eagerness evolved to watching YouTube tutorials for days on end until Rocco decided to follow his fervour and learn this at a higher academic level. Although Rocco is currently attending an art school, his 3D skills were largely gained at a didactic level. So far, he has been working full-time on his art for the past two years. Currently working as a freelancer, Rocco tells us the ups and downsides of the job. On the one hand, no matter who he is working for, his 3D art will always remain an expression of himself. Therefore, it is sometimes tough to find the balance between what the client asks and staying true to his own creative expression. On the other hand, his freelance work has allowed him to gain notoriety – especially after his creations for the  Quebecois Rapper Jeune Loup and American Rapper Trippie Red.
As a relatively untapped and specific art form, one can still tell which videos are made by Rocco. He sets himself apart with what he calls 'lazy texture'. The incautious manner in which he applies texture to his 3D objects is what reminds the viewer of the child-like aspect of his work. His inspiration comes from the likes of Nikita Diakur – who refers to himself as an 'ugly filmmaker' – and Ian Hubertz – a superstar in the 3D community. As aforementioned, Rocco taught himself 3D art by the likes of YouTube tutorials when he was younger. As times change, so do options for learning and teaching. For example, most of his inspirations upload quick videos on their Instagram pages that capture the inner workings of their own work. Moved by their accessible influence, Rocco also shares some behind-the-scenes of his art on his Instagram page. Not only does it give him more consistent content to post, but it also highlights the amount of work that goes into a seemingly simple clip.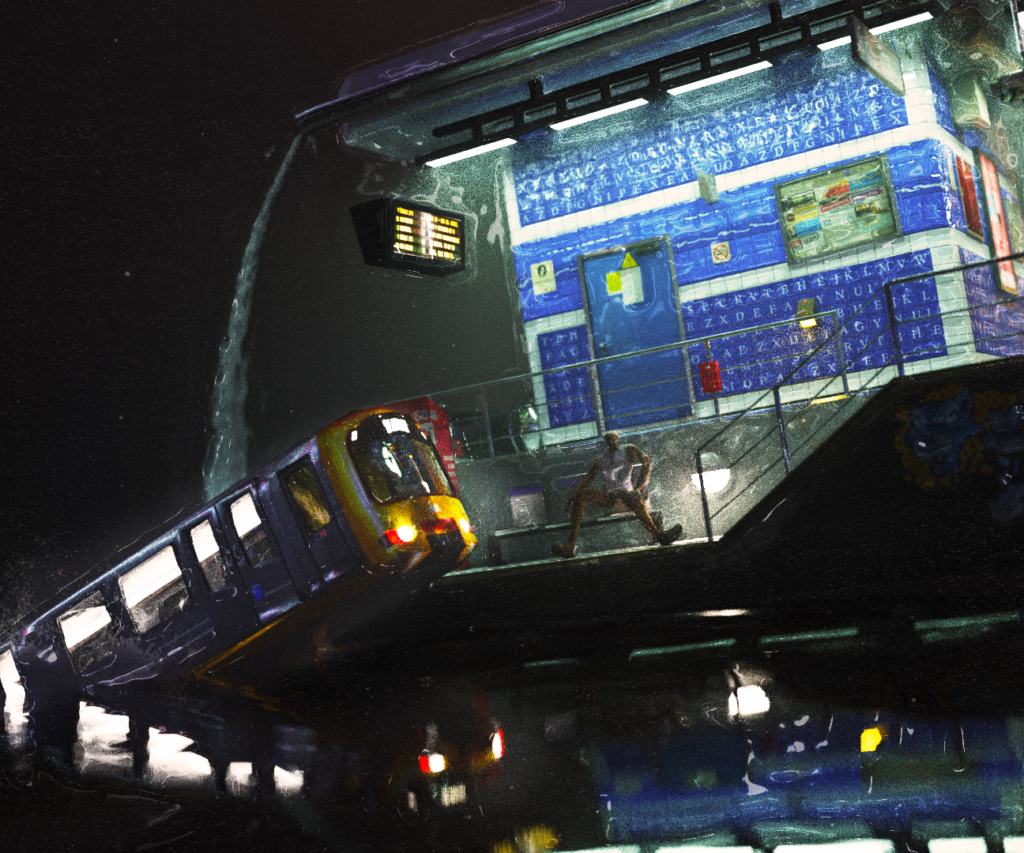 Besides his 3D work, another side exists to Rocco Manta – namely his musical talent. As a music producer and sound engineer, the young artist puts forward his musical alter ego, ROCCO TAVU, through his latest album and numerous songs that you can find on his SoundCloud. Rocco tells us that his 3D art helps him gain visibility for his music as well. Most of his work is done for musical artists, so it is only logical that his two passions meet at the intersection of 3D and music. When asked about his favourite project so far, Rocco told us about his self-imposed challenge during the first quarantine. During this month he made three beats and three animations almost every day. This challenge allowed him to try different techniques both in his music producing and 3D work. Over this period of confinement, Rocco saw his efficacy and skills rapidly growing, until he could practically do it with his eyes closed.
Currently, Rocco is working on a big end-of-the-year project for his school. For this artwork, Rocco fully designed his own clothing line inspired by nature. After having visualized and conceptualized the clothes, he makes his fictional clothing line in 3D, models and all included. One of the reasons for the choice of this project is that, since the Covid crisis, online and 3D runways have made their debut in the high-fashion world. A safer and more accessible option, 3D clothing also paves the way for fashion NFTs and much more.