Text and photos by Paolo Fornaroli 
"Hey man, I'm sorry, I won't be able to meet you at four, I need to pick something up from my place before, I'll give you a call in twenty minutes". After many attempts which failed because of busy schedules on both sides, Raj and I finally managed to meet up to talk about his DJ work, club culture, and the many facets of music. I had expected that we would meet at his apartment to record one of his sets, occasionally interrupted by our conversation. Instead, and maybe more interestingly, I interviewed him at a venue on the Donauinsel (an artificial island on the Danube River in Vienna) where Raj had been asked to DJ a set in the early evening. Half an hour later we were on our way to bike to Soul Brunch at Himmel und Wasser. In fact, what he had needed to pick up at home was a USB Stick with the songs he was going to play.
Raj is one of the cofounders of the Sounds of Blackness (SoB) collective based in Vienna together with Ayo Aloba, Tonica Hunter, and Thiago Rosa. They come from different paths of life and have different careers but are united in their passion for music. If I asked all four, Raj says, the detailed reasons why they founded SoB seven years ago will probably slightly differ amongst them. However, one of their shared objectives had been to create a space to showcase the breadth of black music and where everyone could feel accepted and comfortable. "We saw that black music was often reduced to Hip Hop and Funk, and although these are great types of music, it felt limiting". This quest to promote black music beyond the stereotype might be one of the reasons why SoB events are so exciting to go to – the most recent one being Majira at Volksgarten Pavillon, which happened once a month over the summer. Each member has their own preferred type of music and DJs in a different way, making their sets distinct, a welcome change to the all too often monotonous beats of Vienna's nightlife. Added to that is SoB's commitment to welcome everyone at their events and providing a space for BIPOC to express themselves without judgement, to let go and enjoy themselves. "While many nightclubs in Vienna feature elements of black culture such as black music and profit from them, racial profiling and restrictive door policies ironically make it hard for people of colour to enter these venues. We wanted to make sure that this was not going to happen at our events." By firmly insisting on their principles, the collective has managed to create truly exciting and stimulating events.
We arrived at Himmel und Wasser shortly after 5 p.m., the bike ride had taken us forty minutes. After some introductions to friends and the organisers of the event, it was time to relax and have a shandy. Today, Raj decided to bring a USB stick instead of his habitual little bag filled with Vinyl records. "I was unsure how I could transport them on the bike for so long and it's my first time playing here so I didn't know how safe the records would be if it rained". Then, it was Raj's turn to play. He opted for a great house set, with a mix of a few famous tunes and more selected ones, such as Kenny Dope's Air Macks.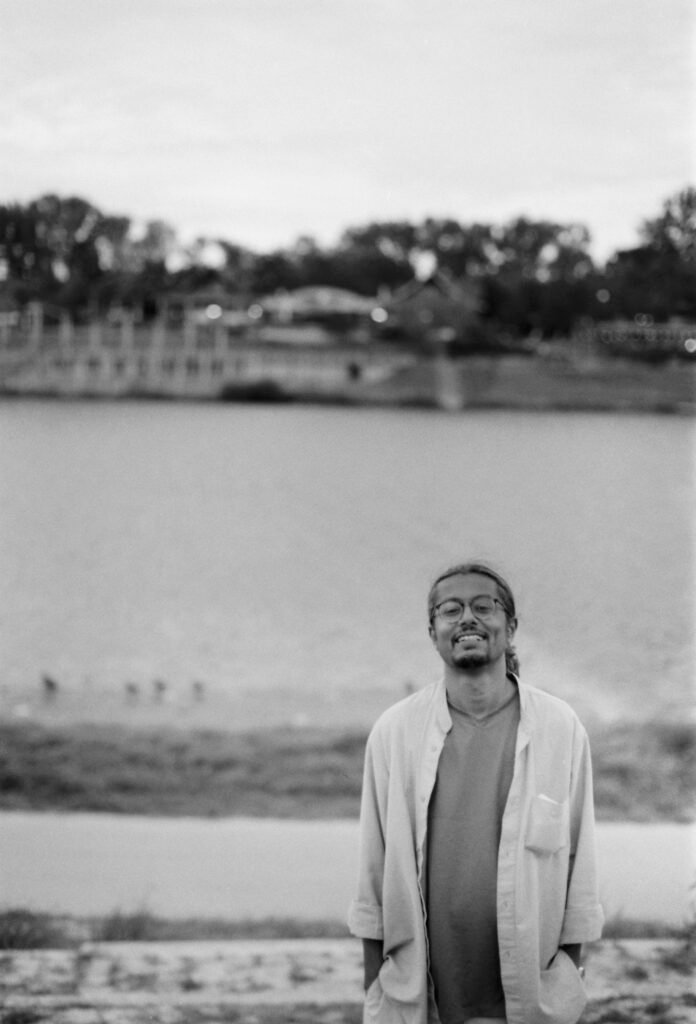 We managed to find a calmer place in the back of the venue later to set up two mics and record our conversation. We started talking about SoB before getting to the topic of his personal path to becoming a DJ in Vienna. Raj has a day-time job not related to music, so I wondered how he had managed to establish himself the way he did. "Music has always fascinated me. In high school, I thought school discos were so cool, everyone is dancing, having fun… I listened to a lot of Hip Hop growing up, but also to other genres. Then, when I moved to the UK to study, I got into UK 2-Step Garage." When he moved back to Vienna, eager to DJ somewhere, a friend recommended he try to convince café or bar owners to let him play. Following this advice, Raj ended up playing at Café Espresso once a month for some time and then progressed to play at more cafés and bars. "I played at the Europa and many others. And not always for evening or dancing crowds. Sometimes I played at two in the morning and there would be only four people left. I'd maybe see a couple and play something smoother for them to get them in the right mood." However, it was only with the start of SoB that DJing became a more important part of Raj' life.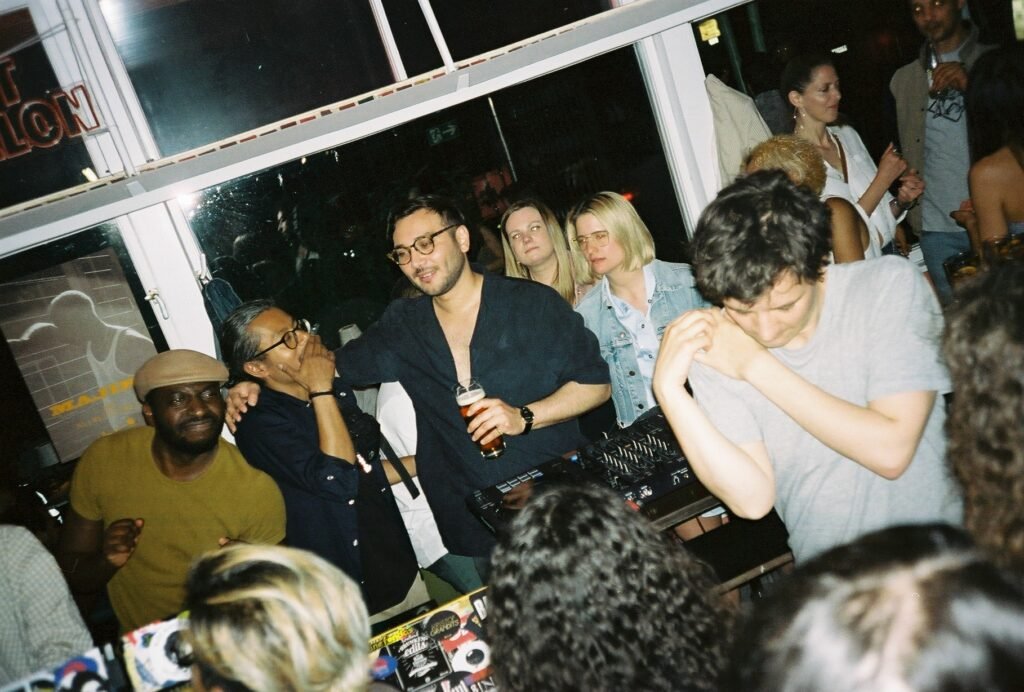 With his love for music, he also developed an appreciation for Vinyl records and usually DJs the traditional way, with two turntables and a bag full of records next to him. Having been at his place, I can attest that he has an impressive record collection ranging from old school Hip Hop to Austrian House from the 90s to (neo-)Soul. The beauty of records, he says, is that one can find music that is unavailable online and can thus play unique sets. He admits, though, that it is harder to anticipate a set with records, as one is constrained by the records they bring. "With a USB stick you can bring up to 32GB of music with all sorts of music and adapt to the vibe at the venue. With records, you need to be sure that what you choose will be right. Both ways are great though." He even opened his own record store in the heart of Vienna, which he ultimately had to close. "I was not running it as a business, but as a passion project, I was not business savvy. That's the tricky part about making your passion your job. But I had a lot of fun and I look back to this as a great time."
On the question on what styles inspire him the most recently, he says:
"It can come from all sorts of places. It can be music from movies and soundtracks, one of my favourite soundtracks is from the movie Dead Presidents. I think a big portion of my appreciation of music comes from my teenage years when I was listening to a lot of Rap and Hip Hop. These genres were very sample based at the time. So, later on, I found that there were a lot of older tracks that I recognised because they had been sampled for Rap songs. And that sort of sent me off on a journey where I was always trying to find all these tunes, songs, and samples, which would come back to this time when I was listening to a lot of Rap. For me, it's a very fun way of discovering new music."
I mentioned to him how he had played a house song in his set that had a touch of Ethio-Jazz.
"And that's the great thing, you can find influences from everywhere. That's very much to the credit of the producers, the beatmakers at that time, who were digging through loads and loads of material trying to find that interesting sound and crafting it into a perfect beat. And that's the great thing about music. It brings people together and it's also a cross-generational thing. A couple of nights ago, I had a very nice experience at the Impulstanz festival party. I met a friend, and we were hanging out in a group. Me and a young guy started talking, he must've been around 22 years old, and he was super into old school Hip Hop. There was a little bit of an age difference between us, but we bonded over our favourite producers. And then I had one of my most interesting exchanges on music with him when I asked him which producer he thought was the most underrated. Because it's always easy to talk about the greats and you will get rather standard answers, but asking someone who they think is undervalued, that's more interesting. This kid said 'Q-Tip' – and it blew my mind! Q-Tip produced the first couple of albums for A Tribe Called Quest, but he also made a bunch of other amazing stuff. It was a great and very fun conversation to have at five in the morning. We exchanged details and I'm looking forward to listening to his beats."
I was intrigued to know how Raj maintained his skill on a practical level while having a day job, if he thought it was important to practice the actual DJing or if there was something else he felt makes the difference between mediocre and exciting sets.
"With DJing, if I'm not practicing in front of the turntables every day, at least I'm listening to music every day. But it's difficult to not get caught in a loop of saying: I like this, this, and this and only play these three things. I try to avoid that. I'm on a couple of different websites regularly, of record labels and the sorts. And I check out the new daily releases and listen to the snippets. Sometimes I'm in the mood and I check these every day for a few hours and sometimes I have other priorities and get back to that later. For me, I think it's difficult to say that there is completely new music that came out of the blue. Music is always more or less influenced by what came before. And I like that idea of continuity and progress. And also, sometimes it's great to bring back a song from the past that maybe didn't have the amount of recognition it deserved or was forgotten over the years – it ties into the Hip Hop ethos. Hip Hop was the music of its time, but it took from the music that came before and it's a nice idea. That's what is happening with Disco and House too. They take tracks, samples, melodies of music from the past. Still, I do believe it should be done in a nice, tasteful way, because it can also go wrong. But I like the idea of taking the old and bringing it into the new, of looking into the past to see what might be happening in the future."
Ultimately, it seems that embracing tradition can be radically forward-looking in music, and maybe it is one of the few art forms where this is so obvious: "It's all about energy. Energy from the past into the present, going into the future."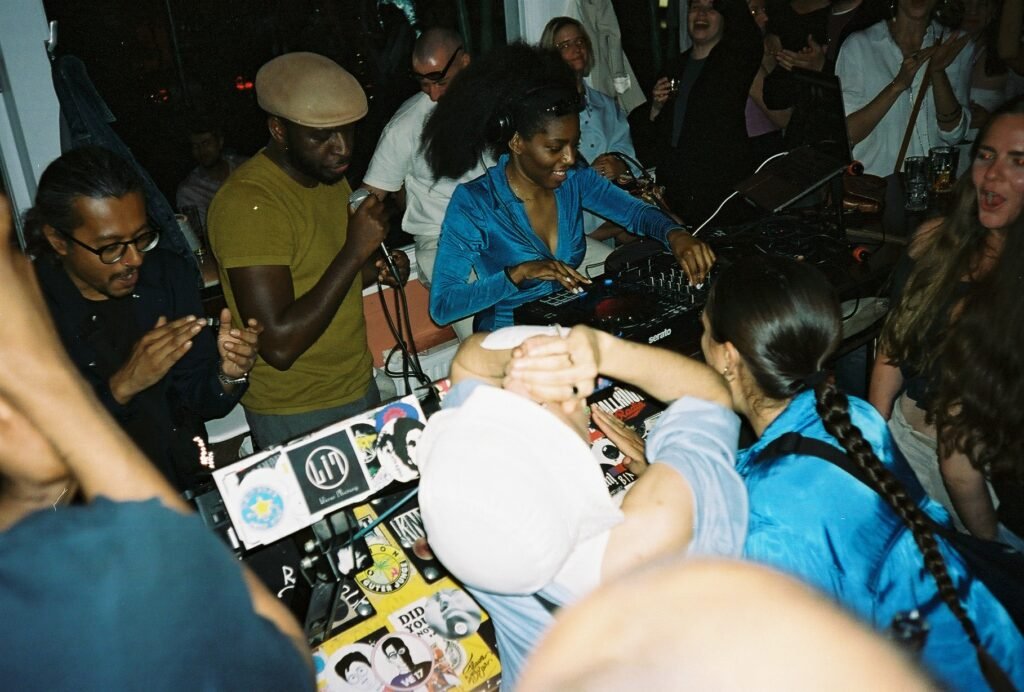 This interview was done in summer 2022. The Majira series will repeat itself this year, again at Volksgarten. The first event will take place on May 27th. Visit SoB's Instagram page for more information.
Further Links:
Records and Prints (his record store that had to close)