Interview by Rebecca Rashkoff
Mack Baker is an interdisciplinary artist in the Ceramics Master of Fine ArtsFA program at the School of the Art Institute of Chicago. Their mixed media approach highlights the queer experience, in all its vibrancy and communal care. Moving between clay, drawing, and photography, Baker wants their work to be a guide for how we love and care for each other- if things get a little gayer.
Your work, specifically your ceramics, uses vibrant colors and varies between sculpture and utility. Can you tell us a bit more about your conceptual framework? 
I would say that the queer experience is really important to what I'm doing right now because of my focus on community and bringing people together. I've been sort of reimagining Judy Chicago's "The Dinner Party" piece. She created a set of ceramic plates with different depictions of vulvas. Based in ceramics, the work is celebrated as being a rare example of contemporary and conceptual art. Managing to break through the craft art and divide them because a lot of craft ceramic potters were pushed into high design in the mid-century. Her work is considered a seminal feminist contemporary art piece of the 1980s and it is currently part of the Brooklyn Art Museum's permanent collection. But my biggest beef is that it's called "The Dinner Party", however it's missing the two most important parts of a dinner party: the people and the food. It's always been important to me that ceramics have a utilitarian function. Food is so important to me in the way that I build community, but I also want to bring it into my artistic practice in a thoughtful and considerate way. I want it to be commodified or turned into a gimmick. 
When I think about ways to give back to my community, community care and how to show up for the queer community, I think about ways that we can nurture each other with our time and energy. In my work, this comes forth through food. Before I left for Salzburg, I had my first plate dinner and had every invited guest bring an object that was meaningful to them. I served everyone a meal that I had cooked with my partner that day, sourcing the ingredients locally. After the meal, as an exchange, I had every guest hold the plate they had eaten from and I took their portrait in my living room. I think about rebuilding homes and reclaiming the dinner table itself for the queer community. If I can find a way to make my community feel welcomed because of who they are, not despite it, my work feels meaningful.
Can you tell us about how studying in Vermont influenced your choice to pursue your Master of Fine Arts FA in Ceramics? How has the structure and community of the MFA program impacted your work?
When I graduated from the University of Vermont (UVM) I had a successful solo show. I was an Art minor and I moved it to a major because I had to stay an extra year to finish my other degree, Psychology. Anyway, it was a pain in the butt, but it changed my life in a way I didn't even know at the time. They kept my show up an extra week because they liked it so much and it sort of was a wake-up call for me. I realized that I loved working interdisciplinarily. I used drawings, projections, and ceramic sculptures. I also had to design housing for the projectors that would keep them mounted at a 30-degree angle so that people could walk around the work and interact with the projections without causing shadows interjecting with the work. And I had to do it all myself. I got certified in the woodshop, I had to write a grant to get media players. So, I felt like I was doing all the things that I needed to develop a practice but at a smaller scale. Like applying for funding and building the projector housing are skills that previously I didn't consider as part of my practice or necessary to it. But after that show, I was like well I did it and I want to do it again. 
At UVM I was involved with a couple of different art collectives, but it just felt so insular and not quite big enough, so my partner and I knew that we needed to move. I applied to the School of the Museum of Fine Arts in Boston, where I did a post-baccalaureate program which is like a year-long certificate in between undergrad and grad school. It was during the pandemic, everything was online, but I really just needed access to the studio which I was able to get. And it was worth it because it was very hands-off. I created a series of drawings that I was really excited about, and it just got me into the habit of getting to the studio every day, receiving feedback, and knowing where to look for the right feedback. I developed a concrete writing practice so that I could successfully apply to programs and residencies. 
I think the most important part of that year was that I figured out how to talk about my work, and what I was most excited about. Having that kind of focus got me into every MFA program that I applied to. What's so important about being in Chicago now is that I've been able to get opportunities that are outside of the university, in the city and in an international context. I think that's what the School of Art Institute of Chicago ( SAIC) does well, they give you opportunities and they help you build a name for yourself. Going into my second year, I have six shows on deck including both university shows and outside shows. For ceramics specifically, we have our own gallery so the only semester that you don't have a show is your first semester, but then you have a solo show in the spring and in the fall. Then you have a thesis show which is open to the public. That is what I'm currently working towards. But what I like about my practice is that it's a lot of different things. Growing up it kind of felt like I needed to eventually choose but the ceramics department gives me the resources that I need that I wouldn't be able to access if I wasn't in the department and so it makes sense that I'm there. Because it is a medium that is so material heavy, you know. In painting and drawing, there are no resources, they don't give you access to anything and you have to provide everything.
How do you see the distinction between art and craft playing a role in your ceramics work?
Yeah, I was going to touch on the New England perspective. I think that craft is really emphasized in New England as being separate from fine art and that has been sort of a thorn on my side growing up and then also going to Vermont. Gallery opportunities in Burlington are very focused on craft and highly saleable items. I don't want to discredit craft and artisanship because I think that those are two important pillars of the way that I approach ceramics. The way that I consider form is craft-based. I've been told by many people that I should make molds of my plates so that I don't have to throw every single one of them. But I'm not doing that because the labor involved with each plate is an act of care and that is part of my practice and my conceptual framework. I was a production potter at the end of high school. If I had gone down the apprentice route, my life would look a lot different, but I think that the skill and the thought involved with artesian ware is something I bring to my conceptual practice that is specific to my approach.
I know that this past Summer you received the Seebacher award from the Austrian American Foundation to attend the Summer Academy of Fine Arts in Salzburg, congratulations! Can you tell us about the exhibit you created while participating in this residency and about your overall experience at the residency?
I worked with Anna Dashkova who is a Slavic photographer. In the 80s she did this photo series about gender that was way before her time. She made black and white images where she pressed plates of glass against her chest and took them on film. She has this beautiful perspective on queer strategies within visual art and performance. While I was at the Academy in Salzburg, I took part in a group performance called "Chants on Camp", which was inspired by studying Susan Sontag's "Notes on Camp". It's an interesting essay because it's laid out in bullet points and some of them contradict each other because camp is contradictory. It's both self-aware and not because as soon as you begin to talk about it, you remove the mystery involved with how people perform their identities. We each took a passage that resonated with us. We then chose four words to have the group chant as we stepped up onto the stage and did either an interpretive performance, read a section of the passage, or read our interpretation of the passage. It just was so different. Although a lot of my work is performative, I don't always consider it as a performance. But I felt like I wanted to be a part of something like this while I was there because of the history of performance art in Austria, specifically in Vienna in regard to Valie Export and Vienese Actionism.
The performance was for the exhibition and open to the public which I wasn't aware of when I arrived. The Academy itself is in the Festung (Fortress) in Salzburg and it's literally a tourist attraction so tourists would just walk into the Academy thinking that they could because they paid entrance to the fortress. But it made for a bizarre place to make work because it has such like, you know, a masculine patriarchal presence. We'll get to what I actually did because it's a pretty funny story. I wanted to do something that was specific to this space because it was so unique. 
This summer I had a job working for Rirkrit Tiravanik, a Thai conceptual artist. The piece that I was hired to be a part of was called "Whose Afraid of red, yellow and green?". It involved a group of artists live-drawing images of social uprisings from Bangkok, Washington DC, and Chicago because those are the three cities where the work has been exhibited. Another aspect of the work was that gallery guests were invited to come in and watch locally sourced artists draw the work with charcoal. We were working from images that are within the public domain, so oftentimes people would recognize newspaper photos because they're iconic images that he's working with. And curry is served in the gallery, the three flavors of curry are red, yellow and green, which are also Thailand's colors. Many of the original protest images and the first exhibition were related to the military coup that was happening in Thailand in the early 2000s.
While I was working on this show, I was working 12 hours a week, every week for three months, drawing on the walls with charcoal, working really large. And when I had to stop doing it and go to Austria, I was like 'wow I actually kind of miss this'. I love drawing on the walls and the studio spaces and classrooms at the Summer Academy are very bare bones. But they have these white panels on the walls so that if you want to hang up work, you don't hang it on to the actual wall because it's a castle. These panels are pristine because they repaint them all the time and they were just calling to me and I had a bunch of charcoal. I started making these sketches of double-ended dildos because I've been really interested in them as an art object. I think that they represent confrontation with heteronormativity and traditional norms associated with sex and intimacy.
I also titled the work from different sections of this poem by Eileen Myles called "Peanut Butter". The poem talks about pleasure and love and sex as not having a means to an end, but just sort of a continuous rediscovery and ongoing practice of joy and care. I think the experience of seeing it in person versus seeing it on your phone is different because it's just more. You're confronted with the material and the sensuality of the charcoal is disarming in a way. It's almost like you have to register what you're seeing after you're already in it and enjoying it for what it is. I really love that about charcoal, so I think it might be something that I continue to do. I'm trying to write proposals for site-specific installations with charcoal. Because I really also enjoyed the act of just drawing to draw and not having any product at the end that could be then bought, it was truly like pleasure for pleasure's sake.
Do you feel like the residency encouraged you to explore new topics and use a mixed-media approach? How did your experience at this residency compare to your MFA?
I think it was just sort of natural. In class leading up to the week of the exhibition, we were talking a lot about pleasure and queer relationship dynamics. So, when I pitched my idea everyone was just like yes just do it, we need dildos. When I had time off, I would just sort of walk around Salzburg and come up with these sketches, which were from memory. It felt like I had a lot more, I don't know, liberty to just draw what I wanted to draw. And I ended up working quickly, so I did two 4 x 6 panels and then two, like a diptych, so narrow side by side and I think the dimensions for that were 3 x 6. 
I think my MFA is very much like a free for all. It's not that anybody would not encourage it, I just don't have the space to really think as I did in Salzburg because it's such a fast-paced environment. At the residency, it just felt like a perfect storm of having people around me who supported the vision. The director of the Academy said during the exhibition, "you know, when we think of gay art we see a lot of penises, and frankly, not enough dildos" so I thought that was a nice accolade *laughs*. 
Is there an opportunity for you to return to the Academy in Salzburg and would you consider coming back to Europe? 
I hope to. I'd really like to go back up. I became really good friends with one of the techs, so I'm in touch with the community. I hope to come back to Vienna or go to Berlin, there are a few opportunities I've been looking into, but I have to finish my MFA first.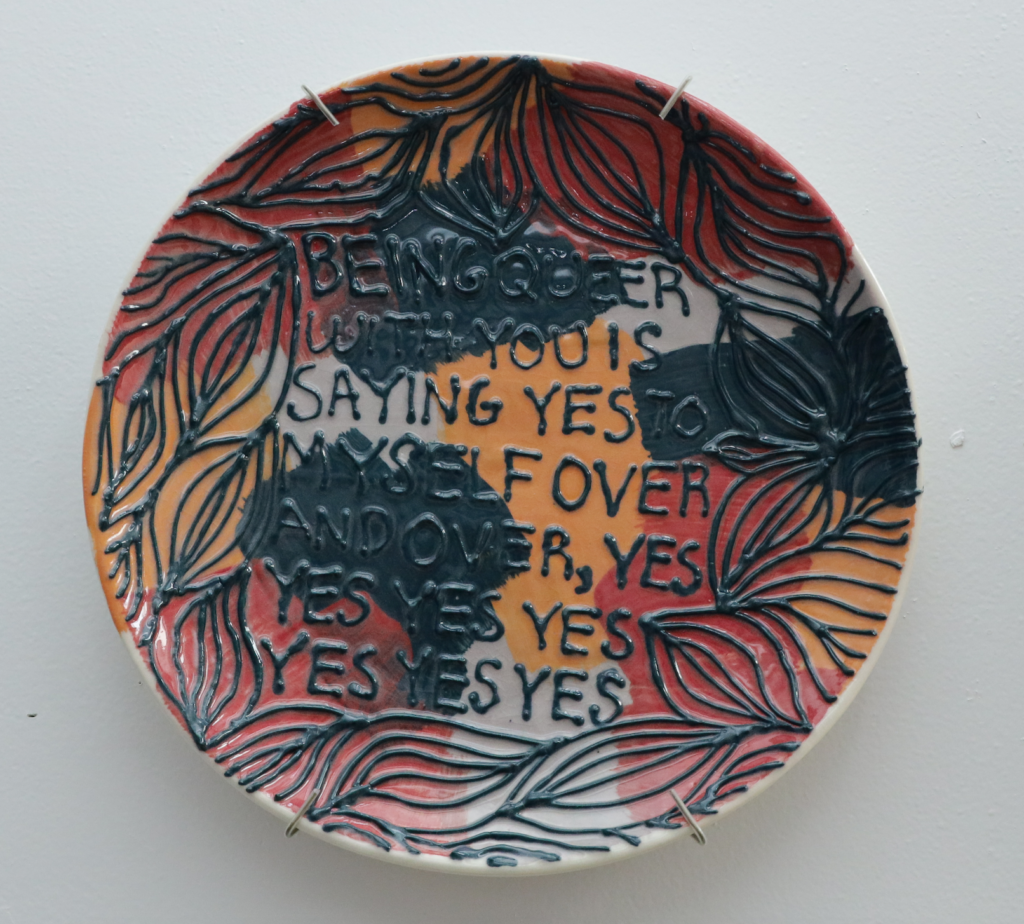 It sounds like you have a lot on deck in terms of shows and working toward your thesis. Do you have specific goals you're after or are you open to whatever opportunity comes around? Specifically, do you have an idea of where you'd want to be geographically, or what sort of work you'd be interested in?
I appreciate the opportunity to be spotlighted like this because I definitely want to maintain an international presence. I think one of the beautiful things about being an artist is that you can move around, you can travel. I do love teaching and I don't think that that would be a bad route, but I want to pursue residencies and fellowships before I find somewhere to teach. I've been looking into this two-year program in Amsterdam, but they require two years between school and before you apply to the program to show that you have been working and getting shows in between getting institutional support. And there's a year-long fellowship through the Stark Foundation in Berlin, that looks exciting, so I think I will be back sooner than later. I had such a good time.